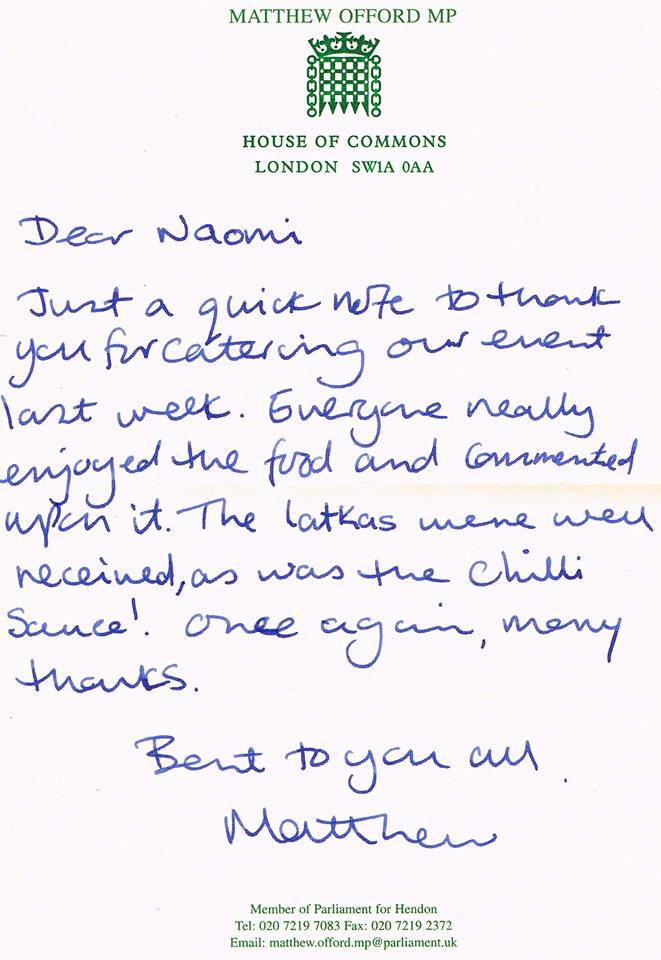 "Thankyou thankyou thankyou!!! Woken up to a zillion messages and every single one mentions how amazing the food was! You were just the loveliest person to speak to, advise and help me. Sincerely thankyou!!!"
Michele - Kingpin suite
"I just wanted to say thank-you for doing such an amazing job last Friday, you, Rick and the whole team produced some fantastic food and the facilities team commented how the kitchen was spotless Saturday morning."
Max - West London Synagogue
"Dear Naomi
Thanks so much for everything. The night was a complete success and everyone loved all the food . I will put a link to your business with your email address on our Hampstead Women's club facebook page if you don't mind as everyone was asking us who did the catering they were so impressed. Your brownies were particularly popular.
Many many thanks you were an absolute pleasure to deal with."
Claudine - Hampstead Womens Club
"Great service, absolutely delicious food loved by everyone at the event !!! Completely recommend. Thank you for your hard work as it was short notice."
Aarti - London
"Thank you again for a wonderful spread. Everyone complemented your food and service. Staff were great too. Look forward to using you on future simchas."
Debra - Mill Hill
"Wow! Food was delicious. Very successful evening and lots of compliments."
Ruth and Paul - Barnet
"Naomi, thank you so much for making such a wonderful party for us. I never dreamt it would go off as well as it did and I've already had phone calls raving about the food and the service and the ambience. Please pass on my thanks to all the staff who helped you, they were amazing and it was a combined effort I know. Hope you're putting your feet up now as I am!
Hope we meet again soon and many, many thanks again."
Ruth and Gerald - Kingsbury
"Naomi was amazing catering both our functions. She had great ideas, was easy to get hold of and it was a pleasure working with her. Everyone commented on the food and I would definitely use her again!"
Deborah - Edgware
"They took care of everything, from planning the garden party to baking the beautiful (and scrumptious!!) birthday cake! Simply scrumptious were amazing. The food was delicious and the team well organized and professional."
Kemi - London
"Dear Naomi,
I just wanted to say a huge THANK YOU to you, Rick and your Mum for all you did to make my party such a success last night. What a wonderful evening! Everything you prepared for us, savoury and sweet, was absolutely delicious (we're all enjoying the left-overs today!) and you all worked so hard and so efficiently to have everything beautifully laid out at just the right moment ….. so difficult when guests arrive at completely different times. Also, many thanks for doing so much clearing up, which I never expected!
Again, many thanks; you made it possible for me to relax and enjoy my own special party."
Very best wishes to you all from the family and me"
Ann - London
"Thank you Naomi at Simply Scrumptious for catering such an excellent breakfast. The food was plentiful and delicious and the crepes were a real winner. Naomi was fantastic throughout the whole experience. Very helpful and accommodating of any requests. It was a pleasure to work with Naomi and I would recommend her to anyone."
Anastasia - London
"Our son, and all his friends, LOVED his 15th Birthday thanks to your Crepes and Shakes."
Howard - Edgware
"Dear Naomi ,
A big Thankyou to you and David for helping to make our garden party such a success . Everyone commented on how delicious your crepes are , and how lovely you and David are! And we even had fantastic weather!
We would highly recommend you and your delicious food!
Kindest regards.
🌟Lin & David 🌟" - St Albans
"OMG Naomi just a quick one to say thank you so so much everything was amazing!Everyone absolutely loved the food, thank you so so much!"
Michelle - Hendon